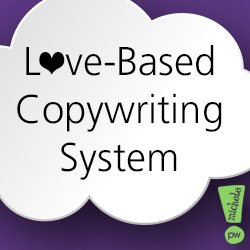 Get Your Free Love-Based Copywriting Template Right Here.
It's the perfect companion for the "Love-Based Copywriting Method: The Philosophy Behind Writing Copy That Attracts, Inspires and Invites" book, which is now available on Amazon, Barnes and Noble and other online stores.
Just enter your name and email for instant access.

©2008 - 2022 Creative Concepts & Copywriting LLC
MichelePW™ is a Trademark of Creative Concepts & Copywriting LLC